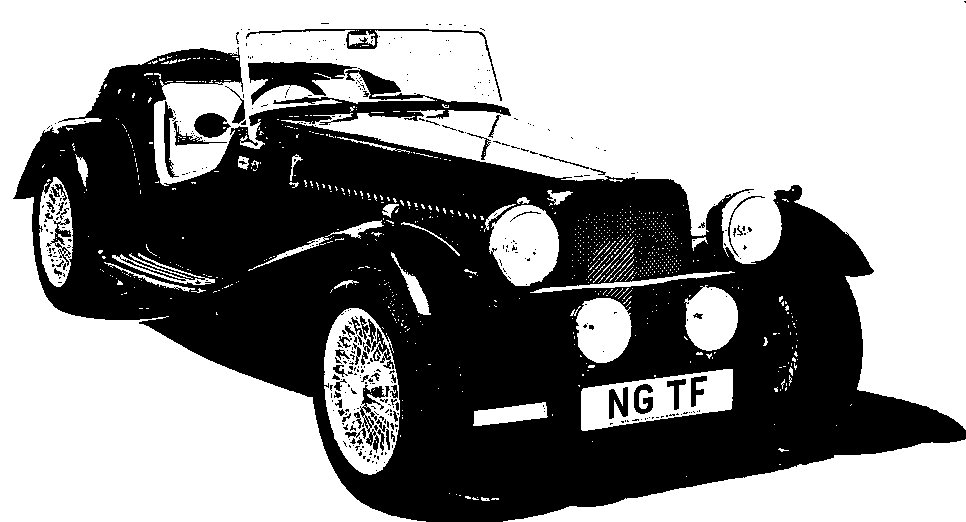 11. Dobby goes to Scotland
(February 2020)
The adventure finally came! It had been planned from the previous autumn but May 2019 was to be my longest road trip so far… a real test of endurance. In the company of 6 other NGs we were to tour the Highlands of Scotland.
NGs at Riverside Museum
Volvo, Wham, Rocket, Java, Road Runner, Dobby and Bow
The Magnificent Seven
Wham, Rocket, Bow, Daffy-Bee, Road Runner, Dobby and Dob
NGs at Riverside Museum
Volvo, Wham, Rocket, Java, Road Runner, Dobby and Bow
Now I had never been to Scotland, neither had the Master (apart from a brief foray into Edinburgh), so we were determined to make the most of it while keeping it manageable. As the other NGs came from as far afield as Northern Island, Wales, Yorkshire, Kent and other home counties, we gradually combined until we became one impressive gaggle of cars.
Having had a recent service we were confident everything should be OK but a few additional items crept into my spares (in particular a petrol container) – just in case – as the area we were going to has a dearth of refuelling stations. The Master also decided to travel hood-up because the weather was uncertain and it gave more space to stow the luggage. The Missus also finds it more bearable when doing a long run.
So on Friday 17th May, we left Potters Bar and headed up the A1 to towards Peterborough Services where we made our first merge with Rocket (piloted by Chris & Su) and Road Runner (Chas). We arrived only moments after they did and then continued north to our overnight accommodation at Skeeby Travelodge.
The following day we turned west onto the A66, heading across the Pennines. I was pleased with myself being able to keep up with the two V8s, although I must confess I felt a little breathless when trying to follow Road Runner up some inclines at the national speed limit. Rocket had no such worries, though he did tend to get a bit hot under the collar (Master's note: I am not sure whether Dobby means under the bonnet, where Rocket was having the odd coolant issue, or whether he means in the cockpit where Su was getting cross with Road Runner's speed). Our next merge point was the Riverside Museum, Glasgow where we had an extended lunch as we waited for 3 more of our contingent: Mr Toad (Jeremy), Bow (John & Jane) and Wham (Matt & Rob). Unfortunately Mr Toad was not ready due to overrun work, so he stayed in Wales and Jeremy came in his Volvo. Bow had been having some electrical gremlins and Wham had been attempting Bond's DB5 trick of spraying oil slicks. We were also joined by Java (Ken), a local NG. After a look round the Museum, Java guided us to the historic Argyll Motor works at Alexandria (in its time the largest Scottish motor manufacturer). We then made our way to our first Scottish overnight stop at The Anchor Inn, Garelochhead, where we were joined by Dob (Kevin & Norma) from Belfast and so we were almost complete.
​
On Sunday 19th Java had to return to Glasgow but he had given us a great welcome into Scotland. The rest of us (now 6 NGs plus the Volvo) took one of a number of routes prepared for us by Chas (whose familiarity with Scotland was to prove invaluable throughout the expedition).
Wham and Dob decided to accompany me on a somewhat wet 120 mile route to the South of Loch Lomond, through Aberfoyle and the Trossachs, then on to Tyndrum where we paused for lunch. Our route then took us on through Glencoe to arrive at our destination, Corran Bunkhouse, which was to be our base for the next 3 nights. Here our 7th and final NG joined us from Yorkshire, Daffy-Bee (Steve & Val) and our adventure was set. The Corran Ferry ran from a few yards away to Ardgour Inn where the humans had their evening meal (foot passengers are free!) while we relaxed and got to know each other a little.
Monday 20th was fine enough to have the top down and meet up with Gagg (Andrew), who lives on the Ardnamurchan Peninsula and would be our host for the day. So 6 of the 7 NGs joined the ferry queue, embarked for the other side and in raucous convoy arrived to meet Gagg in a suitably long lay-by. The 7-long NG snake wound its serpentine, single-track way first to Andrew's delightful abode (and collection of cars), then to a café for a snack (courtesy of Andrew) and on to the Ardnamurchan Lighthouse which sits on the most Westerly point of mainland Britain. The Master climbed the lighthouse while we posed in the car park. The snake split for the return journey and we reconvened at the Bunkhouse after a visit to the obligatory petrol station.
​
The Isle of Mull was to be our destination on the Tuesday with a choice of routes. Having crossed with Road Runner and Rocket on the Coran ferry again, we had to make our way across to the considerably larger Mull ferry at Lochaline. Once on Mull, the others went off clockwise and we went anti-clockwise in the direction of Tobermory. This is a most attractive chocolate-box type place with the shop buildings painted colourfully all along the sea front. After a hearty lunch we continued our tour of the island and what a surprise to arrive at the queue for the return ferry right next in line to Road Runner and Rocket! That evening when we went for petrol I had a soft rear tyre, unsurprising considering the state of the roads. It took the Master only a few minutes to put the spare on.
​
On Wednesday 22nd it was time to move on to our second 3-night base. Again some took differing routes but we journeyed (hood-up for luggage and weather) via Fort William and Loch Ness. Disappointed at not seeing Nessie we headed east to the Stationmaster's Lodge at Stromeferry. This is a secluded place and we were able to make ourselves really at home as the NG clan took over the Lodge and we NGs took over the grass outside. Fuel was even scarcer in this region so I had to make do with a rather suspect brew at times.
​
Thursday we decided to visit the Isle of Skye. There is a bridge to Skye at the Kyle of Lochalsh not far from Stromeferry but Wham and I decided to be more adventurous and take a very scenic top-down route. There is an old turntable ferry which is 11 miles down a single track road near Glenelg, one way costs £15 and it only takes 6 cars! On the other side another 7 miles of single track road before emerging onto a main road an hour or two later than if we'd taken the bridge. Was it worth it? Absolutely! The road itself was incredibly picturesque and challenging, up and down and round all over the place. Wham and I then watched in amazement as the ferry arrived, its table was turned, ramps lowered and a single motor caravan drove off. We (6 cars) were then loaded, one at a time, keeping the weight as even as possible, ramps up, table straightened and we were off to Skye. I now know why they say the Skye's the limit! We had a lovely day on Skye and bumped into some of our other friends. Our return was via the bridge and, of course, a stop for some more fuel.
​
We had waited for Friday 24th for the slightly clearer weather and the climax of our Highland adventures. A trip to Applecross and a return via Bealach na Ba (pass of the cattle) with stunning views as we passed back down towards our final night in the company of my 6 friends Wham, Rocket, Bow, Daffy-Bee, Road Runner and Dob (left to right in photo, me in 6th place).
​
On Saturday (hood-up) we said our goodbyes and I took a rather damp solitary route west across to the Cairngorms visiting Newtonmore and then overnighting just north of Perth. Sunday we travelled on south, with an overnight stop at Scotch Corner, before arriving home on Monday 27th having had the adventure of a lifetime. I had covered 1750 miles in just 11 days on just over 230 litres of petrol (34 mpg) and only had one slow puncture to blot my copybook. I was pleased and proud of the way I had behaved – and so was the Master.
​
Dobby