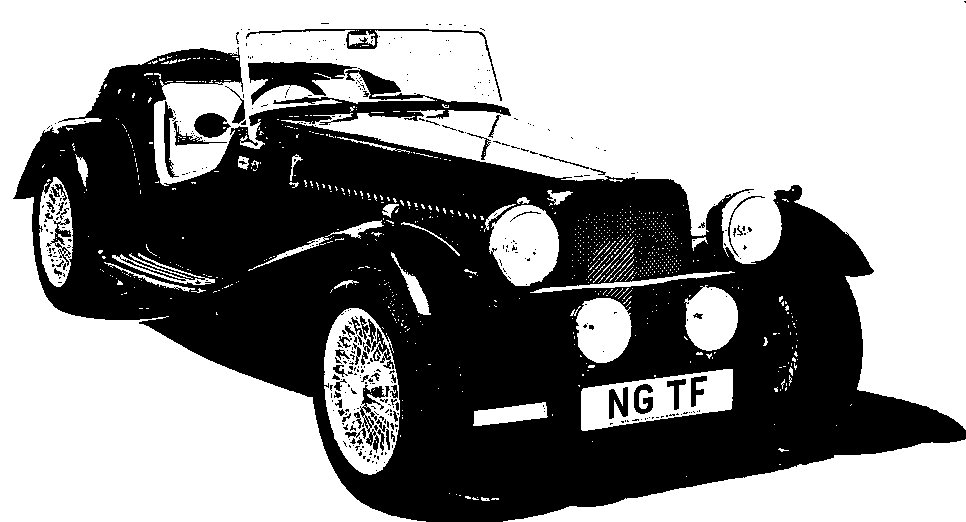 The Autumn Leaves Run (organised by the Cambridge & District MG Owner's Club, who do the excellent Snowdrop Run) was an opportunity to give Dobby some exercise and see some of his MG friends. The run started at Melbourn Village College, Cambridgeshire where we were provided with a breakfast of Bacon Butties and Tea or Coffee. It finished after a 52 mile run at Jordan's Mill, not far from Biggleswade, Bedfordshire where there is a lovely café overlooking the waterside. A little drizzle on our way to the start and at the start caused us to put the hood up, but half way round the sun had come out so the hood came down again.
Fortunately with the anticipated rain, we had put the hood up again the night before. Our drive to the ferry was wet but without incident. The weather cleared somewhat by the time we disembarked but we were chasing the rain clouds up the M3 and caught them by the time we reached the services. Dobby returned home dirty and wet from the spray but otherwise in good spirits.
Isle of Wight Steam Railway
On our last day we chose to visit the Isle of Wight Steam Railway and the Haven Falconry which is beside it. We were allotted our own compartment on the train. On our way back we dropped in to Areton Barns for an afternoon tea. Then back to Old Shanklin for another pre-booked meal at The Crab.
On Sunday, a return visit to Shanklin esplanade and beach and a go at the adventure (crazy) golf. After lunch we went up on Culver Downs for a walk. Dobby relished the steep road up to the cliffs.
Saturday was special for Dobby as we had arranged to meet up with Paul and Kermit. Paul is (I believe) the only NGOC member on the IoW and Kermit is his NG. We met in Godshill car park (hoods down again) and Kermit and Dobby commanded quite a lot of interest. Dobby then drove the Military Road to the Needles, where we had the usual walk to the end of the cliff. On the return leg we visited Calbourne Mill for a lovely cuppa. The day was rounded off by another super pre-booked meal at The Crab. This time it was followed by a return (free) visit to Shanklin Chine to see it lit up at night.
Wildheart Animal Sanctuary
Friday it was the turn of the animals of Wildheart Animal Sanctuary (Isle of Wight Zoo). A lovely day following most of the interesting talks about big cats and primates. We followed this with a visit to Shanklin Chine, then on to Ventnor esplanade. The thunder rolled in and the hood went up – just in time to climb inside and eat our Fish & Chips.
Today was chosen for a visit to Osborne House. The car park was packed and there were slow queues, but once inside there was plenty of space. It is a very interesting place with huge gardens and we eventually managed to join a queue for the house which, by mid-afternoon, had dwindled only slightly.
After a superb breakfast at our B&B in Shanklin we took advantage while the weather was hot to sit on the beach for most of the morning with Dobby on the esplanade attracting attention from passers-by. In the afternoon we visited Ventnor Botanic Garden. Our hunt for a meal landed us at The Crab, a lovely thatched inn in Old Shanklin, for a very tasty pie.
Near Miss to Isle of Wight Ferry
Time for a week's holiday in the Isle of Wight and weather good enough for hood down motoring. An accident at the ferry terminal meant we were not supposed to get there before 30 mins in advance of departure. So we carefully timed our departure from Fleet Services to arrive for 12.30, half an hour before the sailing. Then an accident on the M3 caused a 23 mins delay. We took the Google suggested alternative route and arrived just a couple of minutes before our 1pm sailing. We were told this sailing was now closed – "but if you pull into lane 14, they might be able to fit you on". In fact we were the penultimate vehicle to be allowed on. Phew! Dobby always enjoys a ride on the Ferry.
Another chance to meet up with other classics on the common at Redbourn. The weather was dry and warm and it was very well attended by both vehicles and the public.

Knebworth Classic Car Show
The Knebworth Classic Motor Show is always a favourite, being so near, but the weather rather let us down. However, it was another chance for Dobby to stretch his wheels and attract quite lot of interest.
Deferred from its normal time in May, the National Kit Car Show was somewhat reduced in size this year. Dobby was delighted to get a really decent length run and to see one or two of his NG friends on our club site. Given the current COVID situation, it was probably better that it wasn't quite so crowded as usual, but it was still a worthwhile occasion with plenty of enthusiastic clubs in attendance.
An evening run to see the other St Albans MG crew and a chance to check the new hoses were OK. Still a little seepage.
Dobby had his annual checkover and was pronounced fit. A slight seep was noticed from the bottom hose so I decided to replace all the silicon hoses which had been on the car since 2006.

With the hayfever eased and an end to the abominable weather we've been having, I could get Dobby out for a really nice run of 34 miles. Running sweetly and ready for a few events.
At last Dobby had a chance for a brief 14 mile run after being left outside for a couple of nights due to me servicing my son's car in the garage.
Despite our NGOC National Rally having to be cancelled because of COVID, we were allowed to meet up in one of the fields on the Riverside Park site. We were well looked after by Riverside who opened up an area specially for us to have a meal and issued tickets for us to get free teas and coffees. Several NGs turned out but many (myself included) came in our "normal" cars. My excuse was hayfever, which is always rife when I'm at Riverside in June. So poor Dobby sulked at home.
The local area MGOC (St Albans) had its first meeting in many months (outside at the Prae Wood Arms). Dobby had a pleasant evening run to join in.
A quick run to keep Dobby active and check the effects of the recent service. All OK.
A new dual gauge (oil pressure & water temperature) was fitted and a quick test run confirmed all is now working.
A brief 16 mile run to check everything (including the temerature gauge) after the service. All OK apart from the gauge.
After a short run to warm up the oil, I started a service, completing it over a few days. I also changed the coolant, the brake fluid and the clutch fluid. The radiator cap was also past its best so was renewed and the temperature gauge decided to abandon communication so that will also be replaced.
National Drive-It day is celebrated by the FBHVC and was the perfect excuse to take Dobby out for a (slightly extended) 30 mile run. The weather even behaved itself, remaining dry and sunny albeit rather windy.
A quick run in the sun - Dobby's favourite 23 mile one, to keep him active.
Stretching Dobby's legs in the spring sunshine
A chance to enjoy the spring sunshine and stretch Dobby's legs (or should that be wheels). A very pleasant 35 mile run keeping within Hertfordshire. Now, of course, he needs a clean as the roads still had plenty of run-off from the fields. We even crossed a ford (which wasn't there last time we went that way).

A quick run to try to keep Dobby going. He was very reluctant to start in the cold but once out in the sunshine, he went fine and enjoyed an 18 mile run on fairly major roads.
A lovely sunny morning (for a change) so a chance to take Dobby for an exercise drive, keeping mostly to main roads to avoid the worst of the standing water. He was a bit reluctant to start but enjoyed it once we got going and the sun stayed out for almost the whole 30 miles.
At last! Some sunshine following what seems to be weeks of rain. Just in time to do a last minute dash around Hertfordshire before National lockdown. Although I say dash, it was not particularly speedy - 30 miles took 75 minutes due mainly to a diversion which took me much nearer to the M25 (which was like treacle) than I would have chosen. Ah well, at least Dobby had a breath of fresh air!
If you look here often you will notice the different style of this page. I'm using a new app to present the latest news of Dobby.
A quick relaxed run while the rain holds off for most of the day, keeping to the drier roads.