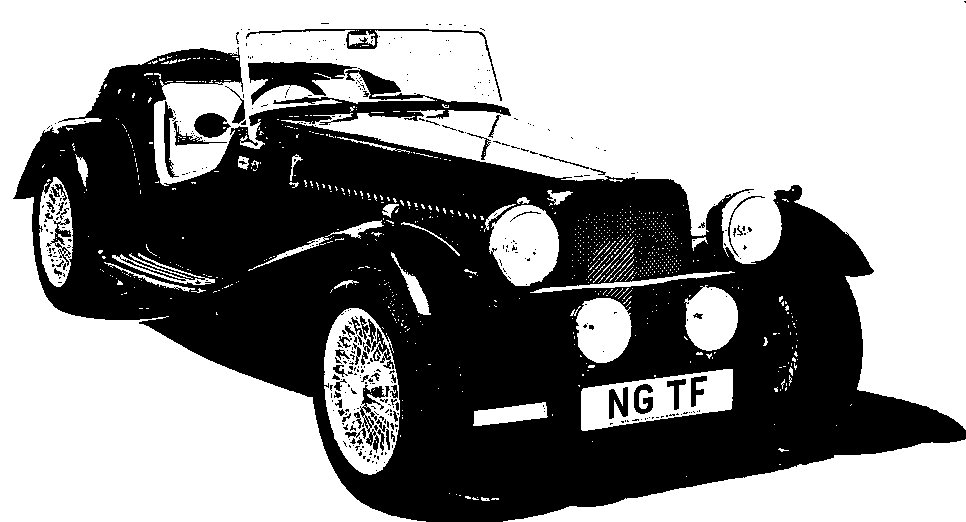 4. Dobby's Wedding Day
(January 2012)
Before you get any ideas, it was not actually my wedding you understand. After all I haven't found the right vehicle yet! No, it was my master's daughter, Sarah who was getting married and she had chosen me to be her transport of delight.
You may remember last time that I was in my new garage and was busy having rides up and down on Cliff the lift while my master tried to service me and tidy up all the little things which had deteriorated over the last winter when he had left me outside (I've not quite forgiven him for that yet). Well, over the summer he had a fair amount of time to sort everything out – even though the original list of 20 jobs had grown to nearly double.
​
There were not many things relating to how well I run – a testament to the bomb-proofness of the MG mechanics. Apart from the rear brake cylinders I mentioned last time, I needed a new seal on my front trunnion, new floats in my carburettors and a re-tune. One of the floats had punctured at the National Rally and everyone was very kind to me so I could get home again. I've heard this may be one result of the higher amounts of ethanol being put in the petrol these days to try to poison us more mature vehicles.
I'd also developed a bit of an unreliable hooter. The current through the horns is quite high and it all tries to come through my little connection at the steering wheel. So my master fitted a relay to take the main current away from the steering wheel and now I can yell confidently at others (if I need to – I don't do it often).
There were lots of cosmetic things though – well I had to look my best for the big day! After last year's winter, the dampness had taken its toll leaving several finishes looking past their best. In particular, my suspension components needed a fresh coat of black paint to make me look wholesome again and my dashboard had started peeling around the switches so my master re-painted that bit too. He also removed the heater box and spruced it up. Then he got a bit carried away and painted my NGOC badge to match my body. Lots of little items needed attention and then basically a thorough clean prepared me for a well-earned polish. Not just the normal standard Autoglym polish mind but an additional coat of Autoglym High Definition Wax. I was really pleased with my body after that! He made out it was hard work but boy did it feel good.
As the day approached, we had a practice run with the bridegroom-to-be, Dip, driving from the church to the reception venue. This was so Dip could familiarise himself with my controls which are somewhat different to a young BMW's!
At last the special day dawned and, despite being the first day of October, the weather decided to be on its best behaviour and the sun shone willingly all day. The worrying prospect of Sarah in her wedding dress combined with me wearing my hood was well and truly vanquished! A final quick wash the day before had set me up to be adorned with ribbons and a posy of flowers on my nose. The time had come and Sarah, in her stunning wedding dress, was installed in the passenger seat with considerably less drama than one might imagine (although the footwell was filled to capacity).
My master drove us to the church sedately (primarily so as not to disturb the bride's hair) where we fashionably arrived a few minutes late. I was given pride of place at the church entrance while bride and father ambled up the path and disappeared inside.
I basked in the sunshine and could hear strains of music and talking emanating from within. After a while, the doors opened and the church erupted with a multitude of smiling faces led by Dip & Sarah – now Mr & Mrs Sofekun. Cameras clicked and flashed capturing the moments of exhilaration while family and friends stood around for what seemed like ages nattering and soaking up the sunshine. Photographers finally satisfied, it was time for Dip and Sarah to climb aboard and drive me to the reception. To say I attracted a little attention is a vast understatement, although I think it was as much about the bride & groom as it was about me. Still, I didn't mind, they both looked amazing.
When we arrived at the reception, I was parked right in front of the entrance to "The Ridings Barn", a converted stable in the grounds of Theobalds Park, a Georgian mansion house and now hotel. This meant everyone could admire me on their way in and out. I tried to rest while they partied but the music foiled my attempts at sleep until much later. I understand from my master that the speeches, food and dancing all went well and the wedding party changed into Nigerian costumes later in the evening. Although I didn't see most of them, I'm told my master looked like the bees knees!
We stayed overnight as several of the wedding party were accommodated in rooms which were part of the "stables". In the morning we all traipsed back to our home for another day of celebration where many guests enjoyed a barbecued burger or sausage. I am just so glad to have been one cog in the wheel of Dip & Sarah's fantastic Wedding Day.
Dobby