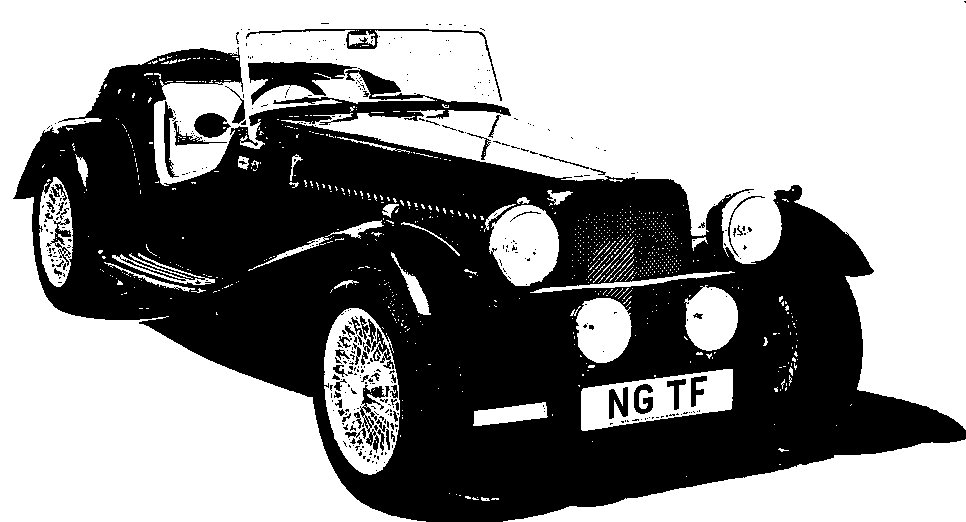 Items needing particular attention
​
Front suspension nut covers
To comply with radius of curvature requirements, exposed nuts or bolt heads must be covered with nut covers (photo 1) including track rod end adjustment lock nuts. It is also wise to check there is no fouling of any suspension or brake components on either full lock (allowing too for deflection of the suspension).
​
Wishbone Covers
These are explained on the Wishbone Covers page.
​
Wheel hubs
As these protrude beyond the body line, they must have a radius of curvature not less than 30mm. Eared spinners certainly do not conform and neither do octagonal ones (although I have heard of them passing). NG have a set of adapted octagonal spinners with SVA compliant, domed covers (photos 2 & 3) which they are prepared to loan to NG builders. Incidentally, the wheel rims are within the body line (but only just!).
​
Spare Wheel
This was acceptable as it had a proper vinyl wheel cover on it (photo 4). No edges should be detectable.
​
Bonnet & catches
The bonnet edges have been known to give problems. If at all exposed, they become panel edges which must be "folded". I discussed this with the examiner who was of the opinion that there was no problem as long as the panels were a snug fit (and the edges rounded of course) - mine were.
The catches can also be tricky so I took the precaution of making small covers for the bottom ends (photo 5) out of rubber brake pipe end covers and plastic ties. The examiner thought these were unnecessary on these particular NG supplied catches.
​
Mirrors
Having heard that some have experienced problems with the supplied (exterior) mirrors, I covered the edges with some (admittedly ungainly) split convoluted tubing as a precaution and put rubber covers on the bolt heads (photo 6). The examiner looked underneath and announced the covers were unnecessary ("take them off - they're ugly!").
​
Running Board Treads
I had finished the ends as detailed in the build manual and these were no problem.
​
Exhaust Trim
As this protrudes substantially beyond the body, a chrome trim is needed to comply with the radius of curvature requirement (photo 7).
​
Petrol Cap
As I had chosen the flush fitting kind, there was no problem here either. Care must be taken with some of the "Aston" style ones though.
​
Hood
To avoid any controversy with the "lift the dot" studs, I left these off (and thus the hood). The only problem then is if it rains hard on the way to the test. We were lucky, it only rained lightly!
Nut covers
to cover "sharp" edges
Rounded hub covers
fit on octagonal spinners
Nut covers
to cover "sharp" edges
Switches
The 3 left toggle Lucas switches are not SVA compliant as they protrude more than 9.5mm (the right 2 are within an allowed 127mm of the steering wheel rim).
So I found some small rubber covered toggle switches (called splashproof dolly switches Ref.36450) in the Vehicle Wiring Products catalogue. These enabled me to replace (temporarily) the switches for the fan, spot lamps and fog lamp. By moving these to the left and the lights and wipers to the right the SVA requirements were met (photo 8). I also pushed rubber covers over the 2 right switches - just in case.
​
Front Spot Lamps
The Cibie Oscar lamps did not pose any problem. They were wired to only come on with main beam headlamps and this was checked. I took the opportunity of adjusting them using their beam setter although this was not a requirement.
​
Rear fog lamp
The "standard" Lucas style rear lights are not E-marked for fog and are not quite as bright (being without reflectors and thus unfocused). So I mounted a compliant fog lamp from the "standard" hole by making a bracket from aluminium angle. This was then covered with a nut cover and edge trim (photo 9). The light was adjusted to point squarely to the rear and complied with the minimum height requirement.