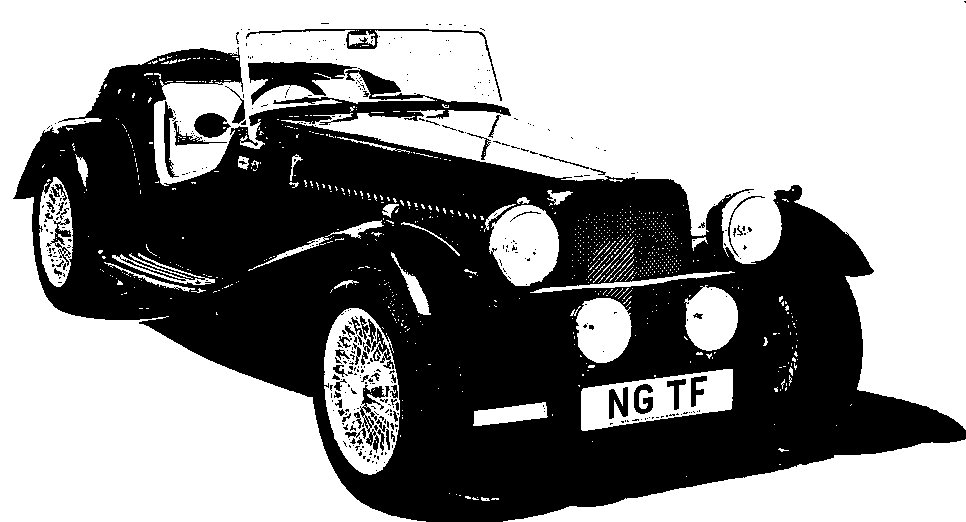 6. Dobby has a Nose Job
(January 2014)
You are probably wondering why I haven't written for a while. Well, after our trip to Holland everything has been rather boring by comparison. In fact I haven't been on holiday during 2013 except for one or two short breaks. We went to the New Forest for a weekend and joined Bob & Manda's NGs in the garden and then there was the National Rally of course. My master replaced my swivel hubs over Christmas 2012 after an advisory at the MOT - how embarrassing! I have done the usual trips to school and some local car events but no real holiday.
I must just tell you about my new nose job though. You may remember that I have had persistent problems with my nose. My first grille started getting rusty soon after I was built and it had been exceptionally difficult to source a replacement. Eventually my master got me one which was supposed to be stainless but that too began to rust. Then my master had it chromed, but that also soon deteriorated. With the onset of his daughter's wedding in 2011, my master removed, cleaned and spray-painted my grille with wheel silver and lacquer to make my nose look presentable for the big day. This lasted better than any previous attempt but I was still not entirely happy with it as I knew it would eventually go the way of the earlier efforts.
Finally my master managed to find a website which had stainless mesh very similar to the crimped original spec grille so he bought a section. So when a pigeon decided to leave it until the last second to move on the A41, that was the final straw (for the pigeon too). We were on our way to the MGB50 event at Blenheim Palace when the stupid bird rose up just enough to fit between the spot lights – feathers everywhere! My master said he was glad he had not already replaced the grille. So he finally removed the old grille and used it as a template to cut out the mesh. He had fun putting the bend in the middle (at least I thought it was funny seeing him jumping up and down trying to make it bend – the pigeon didn't seem to have so much trouble with bending the old grille). He had to cramp some wood either side of the centre line to control where the bend would be. In order to stop the sharp edges scratching me (or was that him), he edged the panel with some trim which just pushed on. Although it is not very stiff, the stainless steel has enough spring to keep its shape – probably even enough to resist another pigeon!
Well now another year has passed but I haven't done anything very exciting. My master however has had his first grandchild so perhaps that's what's taking some of his time. He introduced Remi Rose to me but I think she'll have to do some more growing before she can see over my dashboard. My master had already decided he would retire in 2013 and go part time. So he has taken his teacher's pension (I've no idea what a pension is) and now works just 3 days a week in term time helping the Network Support Team at his school. As long as he still has enough money to spend on me I don't mind. He should even have more time to take me out and about – but it hasn't happened yet!
Just after Christmas, I hadn't been out for about 4 weeks when suddenly there was a sunny Sunday at the end of December and my master decided to give me a run. Well, I wish he had warned me! Waking me up from my slumber, I took some getting going. You'd have thought he'd have learnt from trying to start Zara earlier having left her for a couple of weeks. Her battery was dying after 9 years use and he had to jump start her. He hadn't used Zara because he has bought another "everyday" car and so he had cleaned her up to sell and decided (quite rightly) that he ought to give her a run. I'll be sorry to see Zara go; we've shared some moments - like when our alternators packed up at the same time. So I thought, "if her battery is going, then so is mine". It is over 10 years old after all. I made a better effort at turning over than Zara but in the end my master had get the jumpstart pack again. I still offered some resistance as he'd flooded me but eventually I coughed, spluttered and stuttered into life. It was worth it, he gave me a good run and I reminded him how much fun I am to drive.
As to "everyday", I haven't been formally introduced yet. I've seen it (don't yet know whether it's a him or a her) and it's a black Audi A3 Sportback (diesel – yuck!). My master seems very taken with "it" so I am sure we'll make friends soon. In the meantime, I'm sharing my garage with Zara to keep her nice until someone comes to buy her.
Dobby