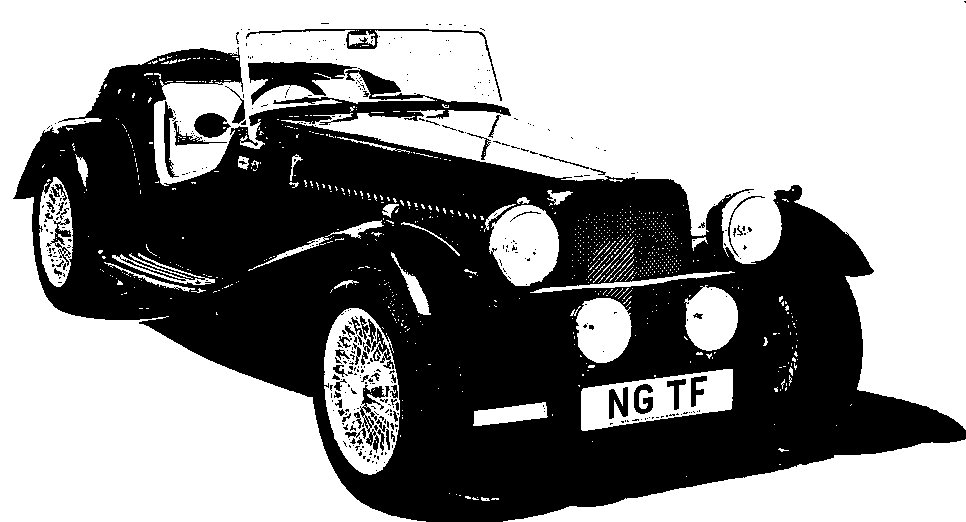 7. Dobby's 10th Birthday
(October 2014)
You may remember last time that I spoke about a new addition to the family. No, I'm not talking about the master's granddaughter but my new stablemate, a black Audi A3. Zara, the ZR, had served the Master well but he wanted something a little quieter and smoother (as he is now over 60!) so he spent some of his pension lump sum on the Audi. Zara was advertised in the MG Owners Club magazine and a nice lady, who lives in the next road just around the corner, bought her. This means, of course, that we see Zara zipping up the road from time to time which is kind of comforting.
Once Zara had gone, my master introduced me to Adele, a phantom black A3 Sportback and I have to admit she is rather nice. The master had always had an aversion to black but, with many of the A3s being this colour, the choice was somewhat limited. Now he has Adele, he has completely changed his mind and really likes black – fickle or what? I must admit that, now he has given her a good coat of polish, she does look kind of sexy – as long as he keeps her clean! I had mixed feelings about her being a diesel – no that's a lie, I really didn't like the idea – but even I am surprised at how refined she is. And she is not smelly either! When the master brought her into my garage to change her filters and give her a service, she behaved impeccably. Now the Master's son and daughter have both bought Audis so there are frequently 3 sitting on the front – more than one passers-by have commented it looks like an Audi dealership!
So far this year has jollied along quite well with the usual opening for us on the Snowdrop Run (from Wimpole Hall to Moggerhanger Park this year) in February. The Kent Kitcar Show (Detling) was cancelled so the next major event was a return to Holland. My master decided it was sensible to give me some new boots before venturing on the continent as my Firestones had lasted since 2004 when I was built – 10 years and nearly 30,000 miles. Although they still looked good, the rubber was quite age-hardened. With my new Goodyears, I feel a lot more sure-footed.
Having been over to see Wim and Janine in 2012, I was nominated to lead the convoy of 3 NGs, a Morgan and a BMW taking the same route as last time. This time, however, we were able to keep our tops down and have a very pleasant drive. Our time in the Netherlands was short but at least we were introduced to our new cousin, Wim's NG Pastiche, in his/her resplendent dark green paintwork (sorry Wim, don't know the name so don't know if it's a boy or girl). We roadsters loafed about a good deal while our owners went off to the Keukenhof Gardens and other places of interest in tin-tops and a minibus. Our journey home began like the journey there but heavy rain as we approached Calais commanded that we hastily cover up. During our trip to Holland, I passed the landmark of 30,000 miles.
With Stoneleigh only a few days after our return, we decided to give it a miss this year (the first miss since we started going in 2005). The next event was to have been the Fathers' Classic Day Out at Woburn Abbey but alas the Master had a bug that day so that was abandoned too. Later in June, however, was a lovely little local event, the Radlett Classic Car Show, where was a charming (if a little wet) collection of old classics.
The following weekend was the highlight of the year – the NGOC rally. I love meeting up again with old friends and new. This year the weather was fairly kind to us and amazingly the members voted for me again as the best TF. I say amazingly as there are many other beautiful TFs there. We also had some fun on the driving tests – with Paul Gray driving me, and the Master co-driving, we actually won. For some reason it seemed to work better than the Master driving with his wife! If your owner has not taken you to an NGOC rally yet, get working on them for next year 'cause it's a great get together and we cars love to natter and catch up.
Once the school term had finished in July, and with it my Master's first part-time, semi-retired year, Master and wife took me on holiday to North Wales. The scenery is very beautiful and we only had one wet (extremely wet!) morning. We stayed at a B&B in Conwy (near Llandudno) which had a very steep slope up to park so I had a chance to show off my lovely torquey engine. Despite that, the Master would not let me climb Snowdon (some sort of big hill I think) as he told me there was no road to the top. I think it was just an excuse because he wanted to go on a train. This train apparently uses a rack of cogs (just like my steering rack) so it doesn't slip down the hill. He saw some good views as the weather was quite clear.
Conwy has not only the smallest house in Great Britain but also a very large castle complete with town walls. On one occasion we spotted a Belgian classic car tour on their way through Conwy. I enjoyed North Wales as I really had a chance to stretch my wheels again, it being about 220 miles each way.
Just over a week after returning from North Wales we toddled off to Classics on the Common (Harpenden). What started as an impromptu meet for a few Jags is now an organised meet for well over a thousand classic cars and other vehicles. When the weather is good (and it was this year) there are ten times as many spectators – and all on a Wednesday afternoon and evening.
The following week we joined Classics on the Green (Croxley Green), a much smaller meet and less frenetic than Harpenden but no less variety of vehicles.
The rest of August was fairly quiet apart from me sailing through the MOT again (why do they say that – I'm not a boat!) and a little Classic Car & Bike Show run by the local Rotary Club. This was so near that the choke hardly got pushed in!
As October approached, I became excited as I knew my Master would do something a bit special for my 10th birthday. It was back in October 2004 when I was "completed" and put through the SVA so it was a real milestone for me. He kept dithering about what to do but I secretly wanted to go back to the Isle of Wight where I had spent one or two of my early holidays. At last, as half term break came around, Master and wife took me around the M25 and down the M3 to Southampton where the familiar Red Funnel was waiting for us (well actually we waited for it). So it was off on a half empty but refurbished ferry to East Cowes and then across to Shanklin to our B&B.
We only had a few days but enough to reacquaint ourselves with some of our favourite spots. The sea front at Shanklin, the IoW Donkey Sanctuary, Ventnor (where it was so warm, the humans ate ice creams) and Godshill. While the Master and his wife were sipping tea at Godshill, I managed to attract the attentions of a number of Japanese tourists who seemed delighted to take as many pictures of me with each other as they could. As soon as they returned to their coach, another group would get out and start snapping. This went on for some time until I think perhaps the coach driver became impatient!
Sandown Zoo, Bembridge Lifeboat, the Needles and Calbourne Water Mill were all visited too and it was lovely to see these familiar places, although the Tamar class lifeboat was hidden away from me in its new boathouse built on stilts out at sea (completed in 2011).
Time had come to return to the mainland so it was off to the ferry for a return voyage. This time it was very full (as they say in Holland, legs were hanging out!). An uneventful zip up the motorways saw me back in my garage with only a little grubbiness. Master gave me a good clean a couple of days later so now I am 10 and happy and clean!
​
Dobby